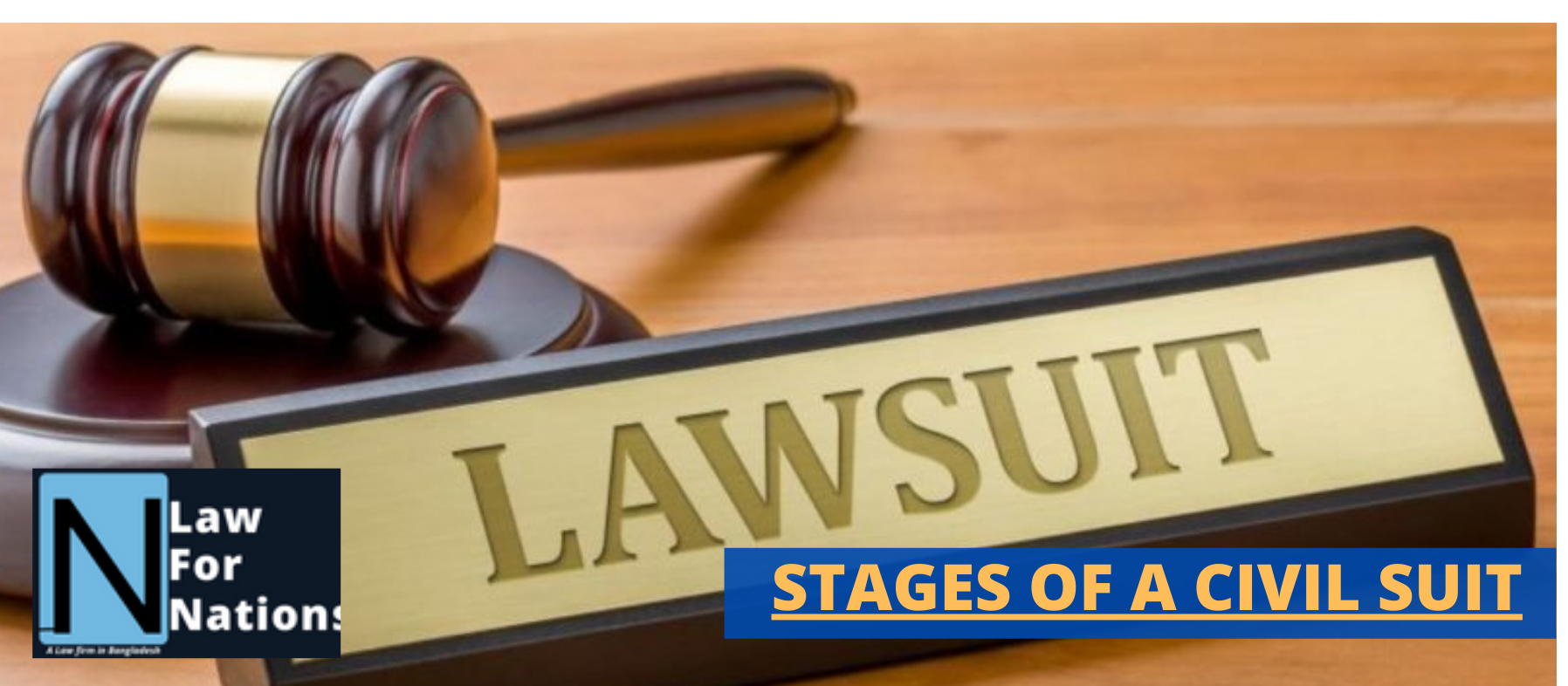 STAGES OF A CIVIL SUIT
Suppose you and your friend bought a piece of land together but now your friend is denying your share in
that land. Now it's your right to recover the share of your land through filing a civil suit in a competent
court.
PRE TRIAL STAGE
That means you have to bring your claim through a plaint to the consent court. Below mentioned
steps comes under the "Pre Trial Stage".
 Presentation of plaint – Section 26 and Order 2, Rule (1-7) and Order 6 (Pleading) & Order 7
(Plaint) of CPC
 Issue of Process – Section 27, 29 and Order 5 (Issue & Service of Summons) of CPC
 Written Statement – Order 6 (Pleadings) & 8 (Written Statement, Set off & Counter Claim) of
CPC
 ADR – Section 89A (Mediation), 89B (Arbitration), 89C (Mediation in Appeal) And Order 23,
Rule 3
 Issue Frame – Order 14, Rule (1-6), Order 20, Rule 5
 Discovery U/Section 30 – Section 30, Order 11 (Discovery & Inspection)
 Settling Date (SD) – Order 18 impliedly says about it.
TRIAL STAGE
In this stage, case is heard by the judge. This stage may take less time and may take longer. It depends on
that how much complex the case which is brought before this court. Witnesses from both the parties are
examined, both of the parties lawyer placed their arguments based on their merits.
 Peremptory Hearing (PH) – Order 18, Rule 01 [Opening of the Case/Right to Begin the Case]
 Further Hearing (FH) – Order 18 (Chief, Cross and Re-examination)
 Argument – Order 14, Process is laid down in Chapter 28 of Civil Suit Instruction Manual.
 Judgment – Chapter 29 of Civil Suit Instruction Manual, Order 20
 Decree – Order 20 and Section 33, Section 2 (2).
POST-TRIAL STAGE
During this stage, one or both of the parties might appeal the judgment from trial, or the winning party
might try to collect the judgment that was entered.  To learn more, click to visit Post-Trial Stage: After
the Dust Settles.
After completing above mentioned two stages, once the hearing is complete the judge will pronounce his
Judgment or fix a future date. Every judgment contains a concise statement of the case, points for
determination, decision thereon and reasons for decision.
 Appeal – Sections (96-112 and 36 – 47) and Order 41 – 45 of Code of Civil Procedure.
Against Decree – Section 96 and Against Order Section 104 & O.43, R-1).
 Review – Section 114 and Order 47, Rule 1-9 of Code of Civil Procedure.
 Revision – Section 115 of CPC (As per section 104 – There is no provision for 2nd Revision).
 Decree Execution – Sections (36-47) and Order 21 (Execution of Decrees & Orders).